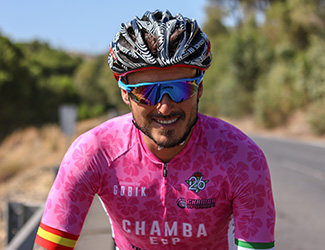 Juan Bautista Castilla CHAMBA
In three World Championships, in Australia, Wales and Canada, he has been able to get on the podium, each time achieving the best time for the foot race.
Juan Bautista Castilla (Valverde del Camino, Huelva) can be proud of being one of the 25 global athletes selected for the toughest physical endurance races in the world.
Chamba is the first person in the world to finish three consecutive ultra-resistance races, managing to get on the podium in each of them. The crowds in Noosa, Australia, witnessed his performance first-hand.
Chamba epitomises the saying 'where there's a will, there's a way'. His long daily training sessions do not prevent him from taking care of his family and fulfilling other professional obligations. He is a university professor, graduate in physical education and specialist in sports nutrition. He is also a prolific column writer and commentator on Canal Sur television.
He is a committed athlete who always puts his desire and effort into any charity races in which he can contribute, making him an exemplary athlete, both as a person and a professional.