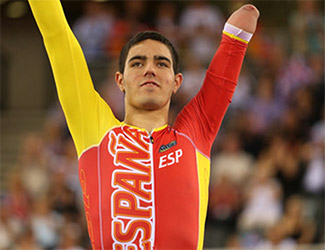 Alfonso Cabello Llamas
World Champion Track Cyclist and Paralympic Gold in the 2017 London Olympic Games
Alfonso Cabello Llamas is a paralympic Spanish cyclist who was born without part of his left arm. Despite this, he played many sports in his childhood, such as Basketball or swimming. However, it was at eight when he started to ride a bike and made his first forays into the world of cycling in exhibition races.
In 2008, he took part in the European Cup Adapted Cycling and in his first appearance in the Paralympic Games in London 2012, he won the gold medal in the C5 class with a time of 1:05.947. In the World Championship on the track in 2014, he beat the Paralympic world record in the 1 km time trial and in the 2015 and 2016 World Championship he held onto his gold medal in the 1 km time trial.
In the 2016 Paralympic Games in Rio de Janeiro he won two bronze medals.
The combination of his strong technical ability and admirable mental strength makes Alfonso Cabello an ambassador for cycling on the national and international track.